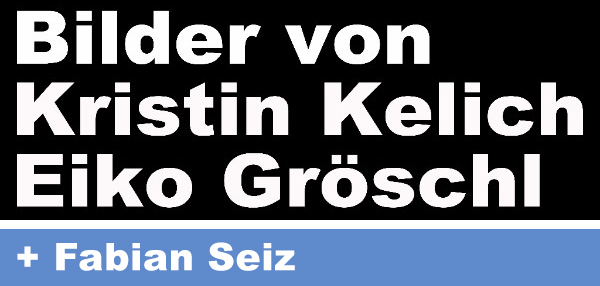 Kristin Kelich, Eiko Gröschl, Fabian Seiz
Pre-Opening: Saturday, November 11, 2017, 7 pm
Opening: Thursday, November 16, 2017, 7 pm
Venue: Ofroom Innovation Circle Marxergasse 42, 1030 Wien
Duration: November 11 – November 18, 2017

Der Kunstverein fAN zeigt in seiner letzten Ausstellung und im Rahmen der Vienna Art Week, in der Pratersrasse 33 die Arbeiten von Kristin Kelich, Eiko Gröschl und Fabian Seiz.
La theorie c'est bon, mais ca n'empeche pas d'exister; Charcot
Was nicht gesagt werden kann, muss gezeigt werden. Der berühmte letzte Satz aus Wittgensteins Tractatus – "Wovon man nicht sprechen kann, darüber muss man schweigen." – birgt ein offensichtliches Paradox: Er enthält ein überflüssiges Verbot, denn er untersagt etwas, das ohnehin unmöglich ist.
Jenseits der Fiktion der Realität gibt es die Realität der Fiktion. Ganz grundlegend lautet die Formel "Epur si muove". Bewegung ist das Streben nach der Leere, d.h. Die Dinge bewegen sich, es gibt etwas und nicht nichts, nicht weil sie weniger ist als nichts. Die Realität braucht die Ergänzung durch die Fiktion, um diese ihre Leere zu verbergen. Wir stellen uns die Frage, ist Kunst Realität oder Fiktion? Wo werden sie sichtbar, die Grenzen zwischen dem Privaten und dem Öffentlichen? Argumentiert Kunst auf einer Ebene der kritischen Distanz, oder auch auf einer Ebene der Empathie? Ist Kunst nur in einem Zustand der Getriebenheit möglich und ist also Getriebenheit das grösste Glück?
---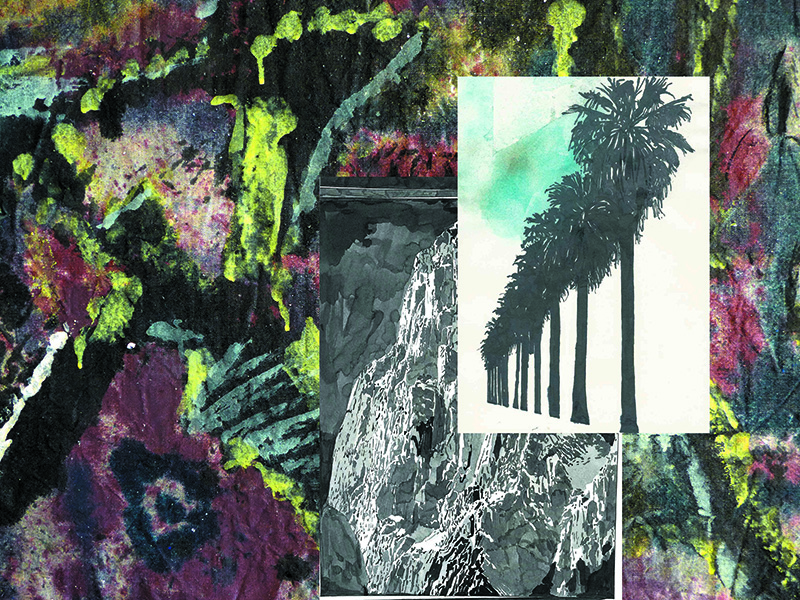 Matthias Bernhard
Andreas Werner
Opening: Tuesday, 17 October, 2017, 7 pm
Artist Talk: Monday, November 6, 2017, 7 pm
Venue: Ofroom Innovation Circle Marxergasse 42, 1030 Wien
Duration: October 17 – November 6, 2017
Matthias Bernhard und Andreas Werner im Gespräch mit Gerlind Zeilner
Malen ist, die Wirklichkeit umarmen, aber nicht, Wirklichkeit sein. Oder malen heisst, ein Gefäß für das, was man will, zu bilden, der Inhalt ist das, was das Gefäß umfasst. Er wird von selbst kommen, wenn er seine Form gefunden hat. Der Inhalt ist das, was der Maler ausspart, oder auch das, was der Zeichner zwischen das Gespinst seiner Linien webt, denn es gibt kein Nichts.
Das absolute Nichts ist Gott. Alles weitere ist sinnlich und überwuchert die Erde mit ihren Schlingpflanzen, und wir sehnen uns nach dem Nichts. Aber wenn wir die Leere vor uns haben, dann kommt die Angst, und die Angst ist viel zu viel, um nichts zu sein.
Wo bist du, wenn du schläfst? Wenn du schläfst, bist du beim Nichts. Um neutral genug sein zu können, muss Gott das Nichts sein. Du wirst die Zeiten, die Welten, die Gedanken überdauern, denn du bist das Nichts, der Goldgrund, vor dem die Welten stehen, und alles wird vom Himmel fallen, auch der Himmel selbst, aber du wirst bleiben. Das Nichts ist der Ort, auf dem Etwas zu Etwas wird.
(Heimrad Prem, 1963)
---
How to Work Together?
Ein Forum mit Kunsträumen in Wien
Talk: Saturday, October 14, 2017, 5 pm
Venue: Kunsthalle Wien Museumsquartier
Mit fAN Kunstverein, Gärtnergasse, Gianni Manhattan, hoast, Schneiderei
(In englischer Sprache)
---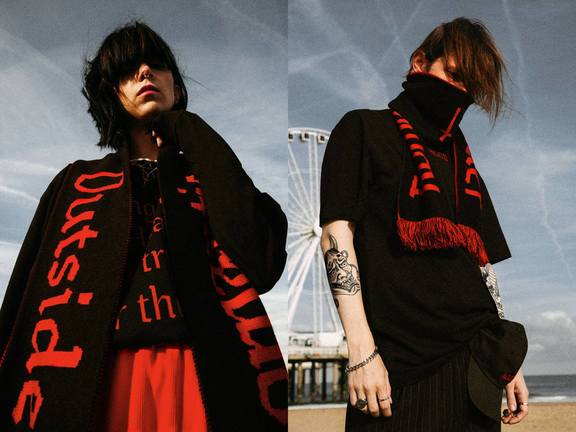 HOOD
Romantic Outsider
Opening: Tuesday, October 3, 2017, 7 pm
Duration: October 3 – October 12, 2017
HOOD is Community. HOOD is Zeitgeist. HOOD is Style. It's all about Realness and Authenticity. They create Style through Art Direction, Photography and Moving Images. Laura Haberkorn + Manuel Platzer are the faces behind the Creative Studio and Clothing Brand HOOD, based in Vienna / Austria. Through their worldwide network they connect you with the right people.
They show their latest Clothing Edition of HOOD at fAN.
The first Time I met you, I knew. I knew that in the End, you will kill Me. I'm not usually this Way, but maybe this is what I am meant to be. Running in Circles through Desert Sun. Where are You Rose of the Night? Keep Me waiting. I will wait for You. Eyes wide open Sealed Lips. I let it go. Hanging in Heaven, but trying for the first Time.
– Romantic Outsider
---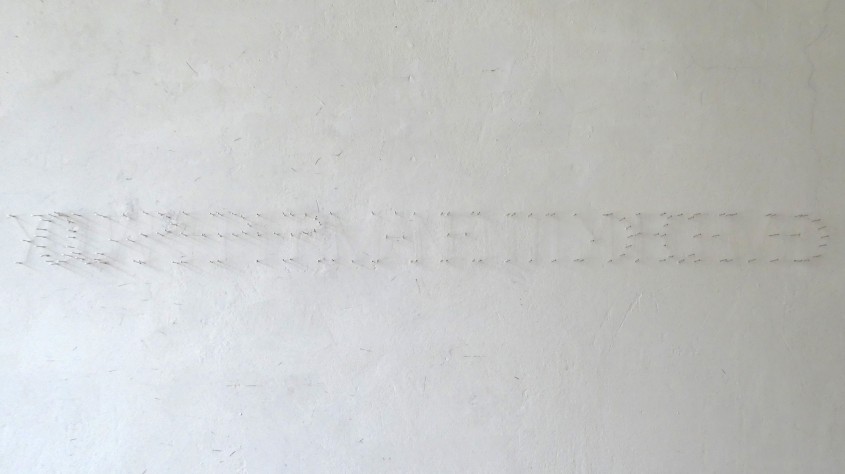 Rainer Bros
You are permanently deceived
Opening: Tuesday, October 19, 2017, 7 pm
Venue: Ofroom Innovation Circle Marxergasse 42, 1030 Wien
Duration: September 20 – September 29, 2017
With their squishy bodies, cephalopods (octopuses, nautilidae and squids) are extremely vulnerable in open water. They limit this danger by being masters of subterfuge, changing not only the colour but also the texture of their skin in order to seamlessly blend into their surroundings. Going one step further is the mimic octopus, first discovered in 1998, which alters its shape and behaviour to impersonate other underwater species, such as sea lions or sea snakes. What stands out about the mimic octopus is that, depending on the predator it's trying to protect itself against, it can impersonate one of a number of poisonous species, leading scientists to believe that it's a deliberate and evolved strategy.
This particular octopus gets its name, of course, from the word 'mimicry', or 'mimesis', meaning 'to imitate'. The mimetic faculty is something that has fascinated many great minds over the ages, from Roland Barthes, to Theodor W. Adorno, to Jacques Lacan. Barthes proposes that our interest in mimicry starts early: "To begin with, children's games are everywhere interlaced with mimetic modes of behaviour, and their range is not limited at all to what one human being imitates from another. A child not only plays at being a grocer or a teacher, but also at being a windmill or a train."1 The fact that children's games cross categories (human/non human; living/non living) suggests the positive potential of mimesis in promoting empathy between humans and their environs, but there is also a darker side to this tendency. For Lacan, "Mimicry reveals something in so far as it is distinct from what might be called an itself that is behind. The effect of mimicry is camouflage…. It is not a question of harmonizing with the background, but against a mottled background, of becoming mottled – exactly like the technique of camouflage practised in human warfare."2 In his view, mimicry is not merely adaptive, but – as with the mimic octopus – a deliberate and active strategy.
Trickery, intrigue and deceit are on display in Rainer Bros' solo exhibition at fAN Kunstverein – although he reveals his hand immediately with the exhibition's title 'You are permanently deceived'. Over many years Bros has been working with camouflage, both the 'natural' camouflage of the animal kingdom and the manufactured camouflage of the military-industrial complex. For this exhibition he has staged two site-specific interventions (all works Untitled, 2017), which feature numerous panels of unique camouflage patterns displayed in two large rectangles on adjoining walls.
The characteristic splodges of colour used in military camouflage work through disruptive colouration (the act of breaking up the outlines of an object or human with strongly contrasting patterns) – a process that was developed from its use in nature. But unlike creatures such as cephalopods, who have pigment sacs that can grow or shrink to change their overall skin colour, humans must pick a 'universal' pattern. The varied iterations of camouflage in Bros' paintings (which themselves at first glance appear similar if not identical) could be seen to remind us of the difficulty of this task. The current use of Operational Camouflage Pattern, for example, was a result of the United States Army deciding that Universal Camouflage Pattern did not adequately conceal soldiers in all of Afganistan's regions. With each new war the background changes and the military must work again on 'becoming mottled'.
Chloe Stead, Sep. 2017
1 Benjamin, Walter, Doctrine of the Similar (1933).
2 Lacan, Jacques, 'The Line and the Light' in The Four Fundamental Concepts of Psycho-Analysis (1978)
---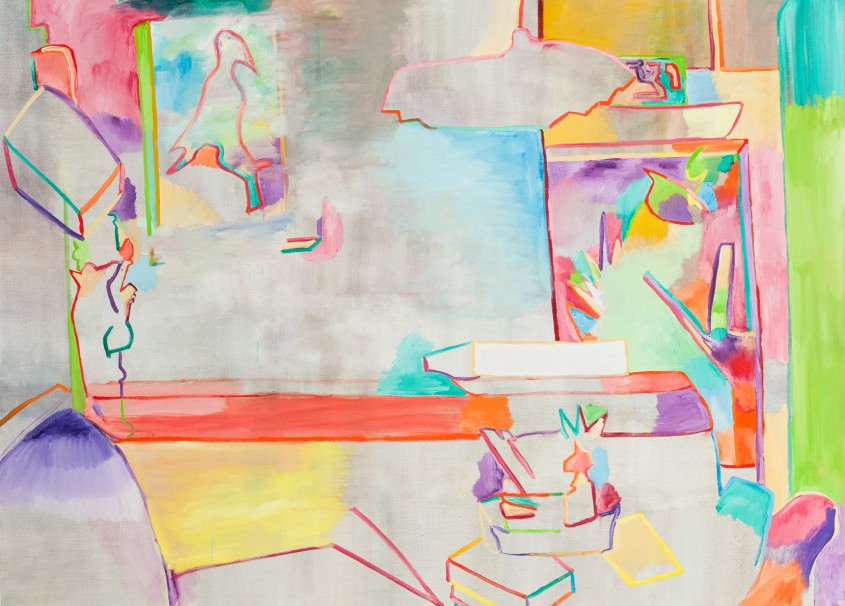 Abb.: "lamps", Eitempera, Öl auf Leinwand, 220 x 160cm, 2017
Gerlind Zeilner
Two Bars
Opening: September 6, 2017, 7 pm
Artist Talk: Tuesday, September 12, 2017, 7 pm
Duration: September 7 – September 15, 2017
Artist talk with Sabine Kienzer, Gerlind Zeilner and Ute Burkhardt
Curated by Sabine KienzerIn the vein of artists like Nicole Eisenman, Gerlind Zeilner takes on the genre of bar paintings in her new solo exhibition at fAN Kunstverein. Taken from in situ drawings in bars, she chooses spaces that feature wall decorations or small statues to translate into scenes in her paintings. Though her scene choice and with her characteristic use of colour, which prioritises the 'idea' of colour rather than faithfully transcribing the situation at hand, Zeilner investigates the role images play in our daily lives.
Chloe Stead, Aug 2017
---
Daniel von Bothmer
Dinge, die ich gerne gemacht habe
Opening: Tuesday, July 25, 2017, 7 pm
Duration: July 25 – July 30, 2017
Closing and screening: Sunday, July 30, 6 pm
SEASONS is a four-part exhibition series taking place in spring, summer, autumn and winter. It is curated by Anna Schachinger, Michaela Schweighofer and Thilo Jenssen featuring solo shows by artists that have never exhibited in Vienna before.
---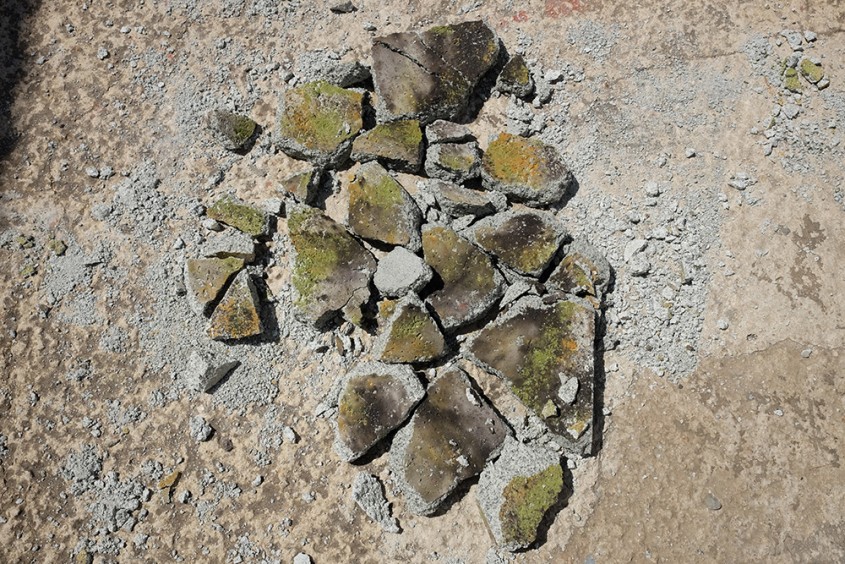 Peter Eramian & Rumen Tropchev
Opening: July 20, 2017, 2 pm
Venue: Ofroom Innovation Circle Marxergasse 42, 1030 Wien
Duration: July 10 – July 20, 2017
In Business Plan, a collaborative project between Peter Eramian and Rumen Tropchev, tiles are accumulated in piles that index via surfaces of encounters the very work that goes in producing them, while the function of the body in the public sphere as a site of lived truth is put to work. The visuality and circulation of bodies, and specifically of the working body, becomes the main problematic of an examination on the current state of society, where 'to make a living' and 'living body' are intertwined and feed into a loop of necessity and desire that furnishes how we come to understand our efforts and the labour that goes into realising them. The functions of bodies are involved in a politics where they become performative loci of experiences that cannot yet be adequately expressed in common language.
Viewers are invited to visit the space for a chat/drink during the production of the tiles. Please contact fAN for more info or Peter Eramian directly: Facebook & Instagram
Production dates:
10.7.–14.7. (14:00-19:00)
17.7.–20.7. (14:00-19:00)
Presentation:
19.07.2017 Celebrating the presentation of two weeks of tile production by Cyprus-based artists Peter Eramian & Rumen Tropchev. Over this duration the doors of fAN were open to viewers to join in the production.
A project curated by Irini Miga from Daily Lazy as part of a selection of artists presented at fAN.
Drinks, snacks and DJ set by At Pavillon (Mwita Mataro) and Peter.
Peter Eramian was born in Nicosia, Cyprus, where he currently lives and works. Rumen Tropchev has been living and working in Cyprus for 14 years.
www.petereramian.com
---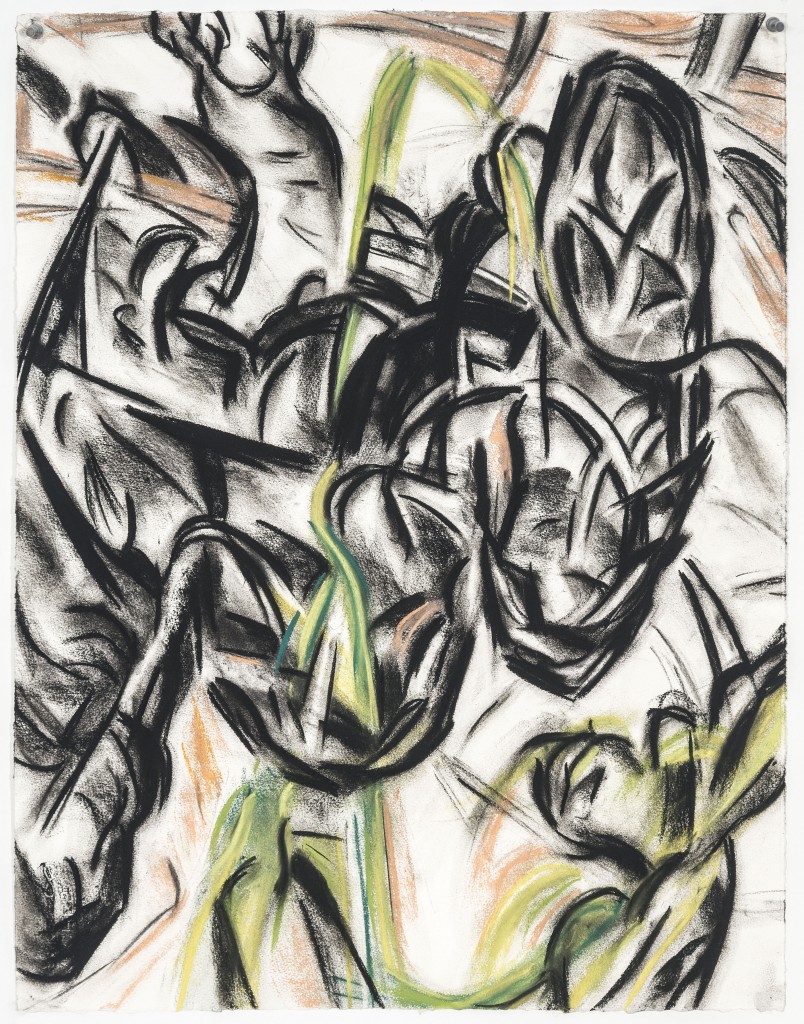 Victoria Roth
Insides
Opening: Saturday, June 24, 2017, 7 pm
Venue: Ofroom Innovation Circle Marxergasse 42, 1030 Wien
Duration: June 24 –July 5, 2017
They are a little larger than your body's frame, tall and narrow like a passageway. Once inside, life is busy, furry and muscular. The shapes, well gnarled and intertwined, send you back to your gut– a pastel and charcoal forest of the intestinal? Unclear. Yet, within the unfamiliarity, a sense of inner logic unfolds. As figure and ground interweave, perspective shifts and multiplies, and motion, that relentless beast, keeps expanding upon itself through its internal circular energy. When you step back, you might see a pigeon at the other end of the room.
Victoria Roth (b. 1986) is a French-American artist living and working in Queens, NY. She received her BA from Brown University and her MFA from Columbia University. She recently mounted her solo show "Off the Banks" at Brennan & Griffin, NY (2017). Recent group exhibitions include "The Clear and the Obscure" at Lulu, Mexico City, MX (2016), SPRING/BREAK Art Show, NY (2016 & 2017) and "In the Mix" at Hometown Gallery, NY (2016).
---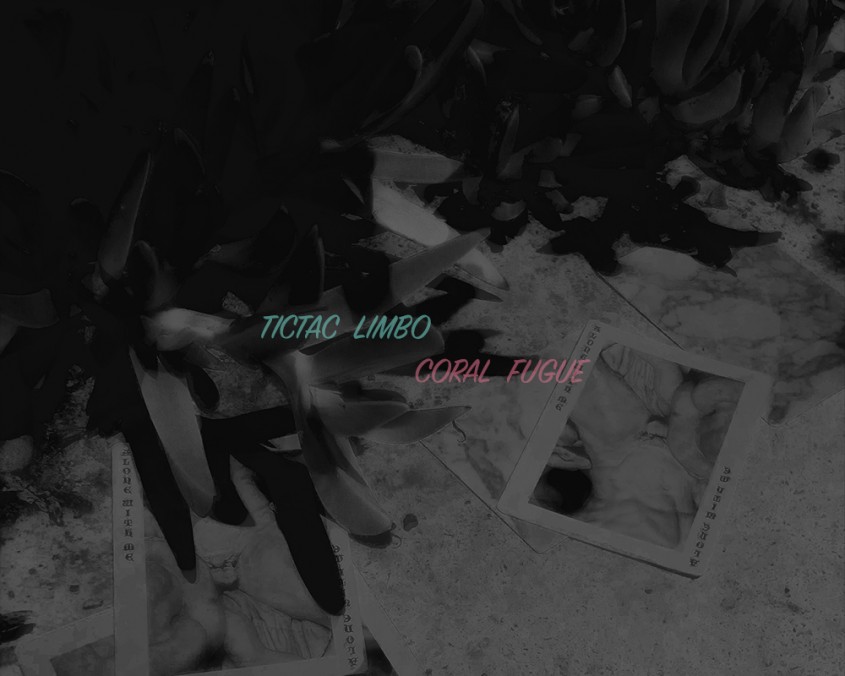 Chin Tsao
Tictac Limbo, Coral Fugue – a memento of a mirage garden
Opening: Wednesday, June 14, 2017, 7 pm
Venue: Ofroom Innovation Circle Marxergasse 42, 1030 Wien
Duration: June 14 – June 22, 2017
Opening Times: 16.6.,15:00–18:00, 18.6., 15:00–18:00 and 20.6., 12:00–14:00 and by appointment.
" … come further now. We must hurry a little, for we must walk and tremble through several other apparitions … At length, as the stone stairs came to end, we were walking over moist, soft earth. I felt that we were standing in the middle of the earth's sphere, so deep and lonely was the place … One must always keep moving, as we are doing here, one must dance in freedom. It is cold and beautiful. Never fall in love with it! … "
«Jakob Von Gunten», Robert Walser
---
Elisabeth von Samsonow
Explosion
Opening: Tuesday, May 30, 2017, 7 pm
Venue: Ofroom Innovation Circle Marxergasse 42, 1030 Wien
Duration: May 30 – June 9, 2017
Opening Times: by appointment
Aus der Erforschung der Photosynthese ergibt sich die Erforschung des Wachstums, aus der Verwandlung zur Transpflanze die Geo-Anatomie. Daraus folgt: Die Erde ist eine ekstatische Entität. Direkt neben dem U-Bahnausgang Nestroyplatz/Praterstrasse (U1) befindet sich der Space des fAN. Immer wieder aus der Röhre nach oben, das ist eine Feier der Explosion wert.
---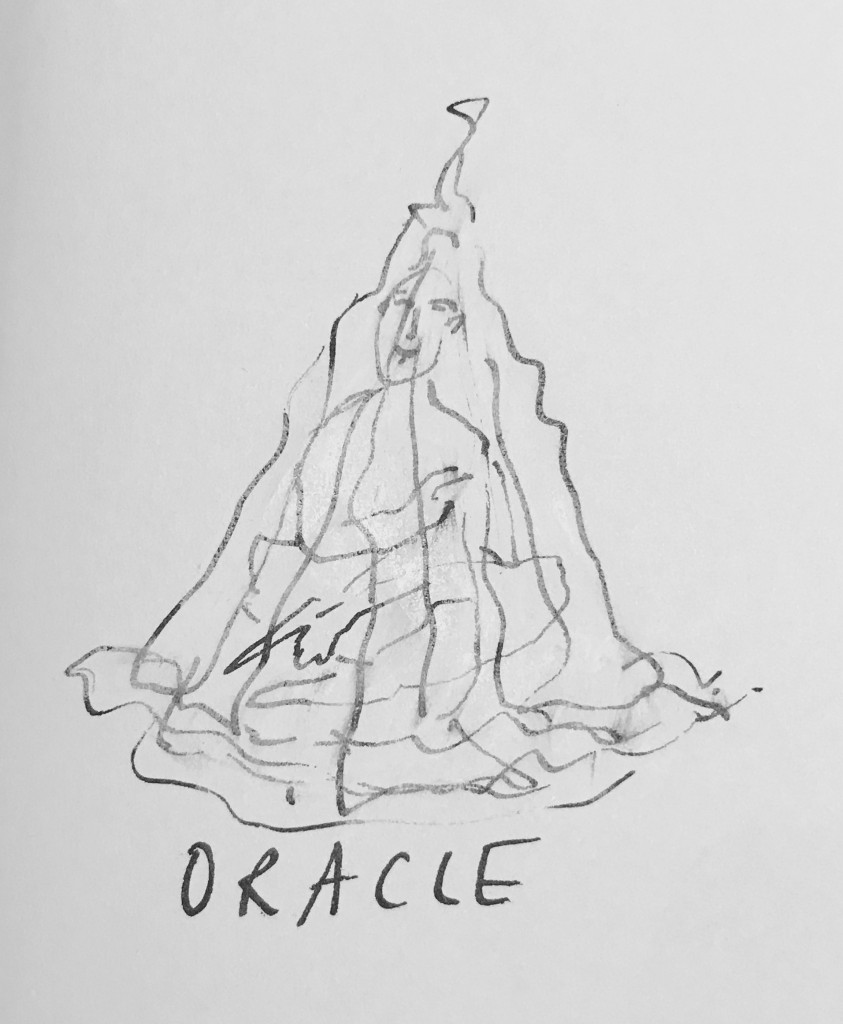 Elisabeth von Samsonow
Oracle
Performance: Wednesday, June 7, 2017, 7 pm
Venue: Ofroom Innovation Circle Marxergasse 42, 1030 Wien
Elisabeth von Samsonow betaetigt sich als ernsthaftes Erdtelephon, als Geo -durchsageapparat oder als Orakel. Sie orakelt zu Vergangenheit und Zukunft der Erde, wobei sie gelegentlich den Zeigefinger aus dem Tuellberg streckt und die Fingerspitze dem Publikum zur géo-elektrischen Kontaktaufnahme entgegenstreckt.
---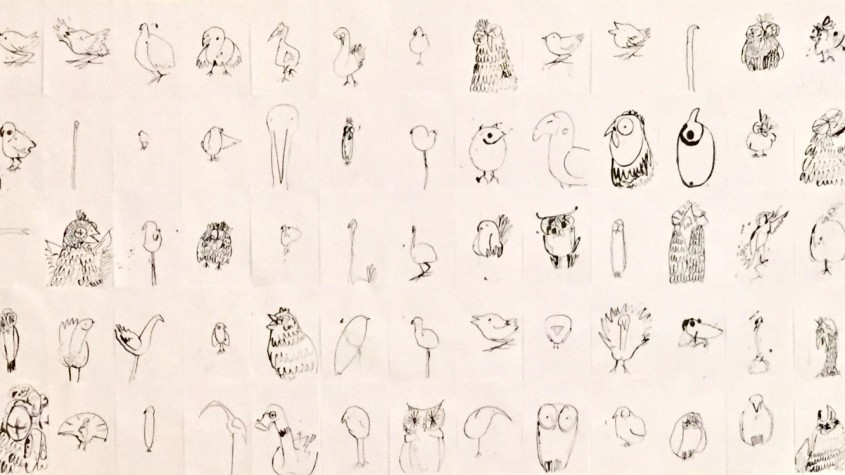 "Klane Vogerl, schau!"
Valentin Postlmayr
Opening: Tuesday, May 23, 017, 7 pm
Venue: Ofroom Innovation Circle Marxergasse 42, 1030 Wien
Duration: May 23. – May 28, 2017
"Vögel als Zeichen der Gemütsbewegung". In schnellen Strichen versucht Valentin Postlmayr Emotionen in Form von einfachen "Vogerl"- Zeichnungen zu Papier zu bringen und schafft so eine Gefühlsvoliere, die Raum zur Interaktion bietet. Die Zeichnungen treten über emotionalen Ausdruck in Beziehung zueinander und ermöglichen den Betrachter Geschichten daraus zu interpretieren. Alle Bilder sind dabei mit einer echten Vogelfeder gezeichnet worden.
---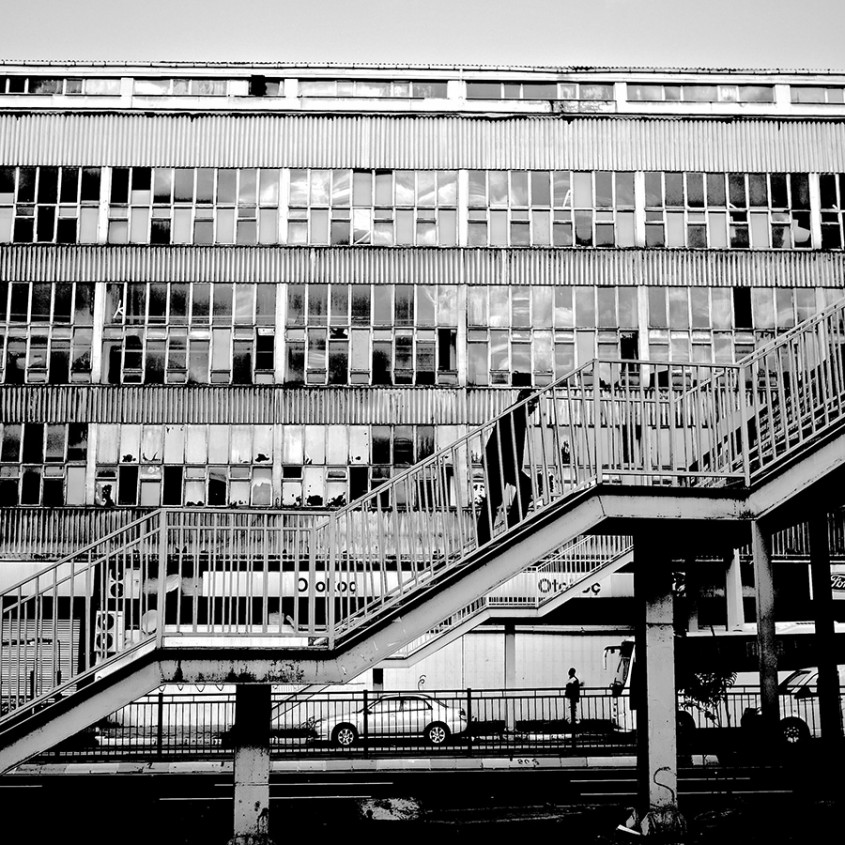 Tevfik Baser
Istanbul Blick aus meinem Fenster
Opening: Saturday, May 20, 2017, 7 pm
Venue: Ofroom Innovation Circle Marxergasse 42, 1030 Wien
Duration: May 20 – May, 2017
Am 20. Mai zeigt der Kunstverein fAN, erstmals Werke des türkischen Regisseurs und Künstlers Tevfik Baser. "Istanbul aus meinem Fenster" zeigt Momentaufnahmen aus Istanbul. Bewusst wird auf sprachliche Erklärungen verzichtet, denn die Deutung der Bilder sollte dem Betrachter überlassen sein.
Sein Auge für das bewegte Bild zeigte Tevfik Baser bereits als Regisseur zahlreicher Filmproduktionen. 40qm DEUTSCHLAND (Unesco Preis Cannes'86. Silberner Leopard Locarno'86. Goldenes Eichhorn Festikon'86 Amsterdam. Bester Debütfilm Roterdam'87. Nominiert für Bundesfilmpreis'87), ABSCHIED VOM FALSCHEN PARADIES (Offizieller Beitrag im Wettbewerb der 39. Internationalen Filmfestspiele Berlin. Grand Prix Filmfestival Strasbourg'89. Publikumspreis Salso Filmfestival'89. Civis Preis '90 Köln) & LEBEWOHL FREMDE (Offizieller Beitrag im wettbewerb der 44.Internationalen Filmfestspiele CANNES '91. Preis für Beste Regie in Garda Filmfestival, Verona 1991) sind nur drei von vielen Preisen die den Werdegang des 66 jährigen schmücken.
Die Ausstellung im fAN in der Praterstraße sollte die erste fotografische Präsentation werden.
---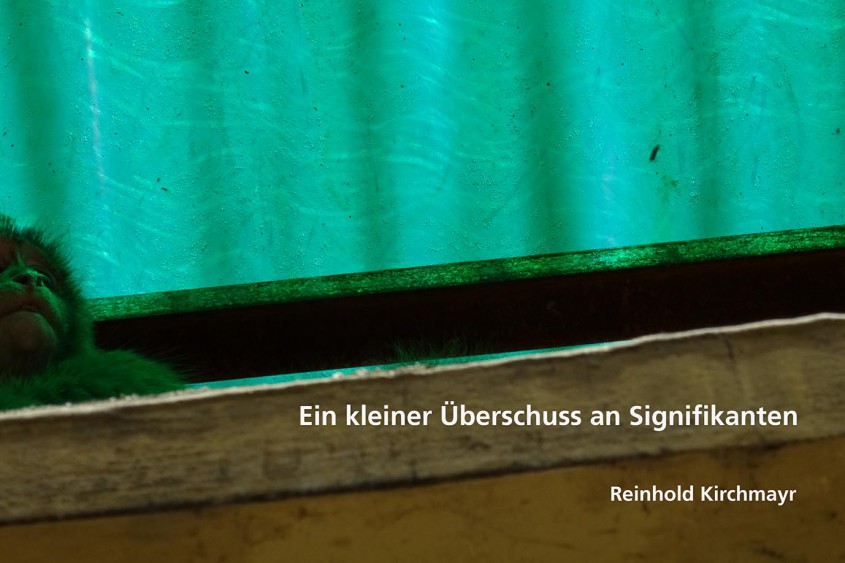 Reinhold Kirchmayr
Opening: Thursday, May 4, 2017, 7 pm
Venue: Ofroom Innovation Circle Marxergasse 42, 1030 Wien
Duration: May 5 – May 18, 2017 and by appointment
Artist Talk: Thursday, May 11, 2017, 6 pm
Gisela Steinlechner im Gespräch mit Reinhold Kirchmayr
In diesen fotografischen Bildbeschreibungen stellt sich die Frage nach der Bewahrung nicht mehr – die Geheimnisse entwickeln sich mit mit dem Lauf der Welt. (Hannes Stiefel)

Artist Talk: Gisela Steinlechner and Reinhold Kirchmayr
In these photographic image descriptions the question of safeguarding no longer arises – the secrets develop along with the way of the world. (Hannes Stiefel).
---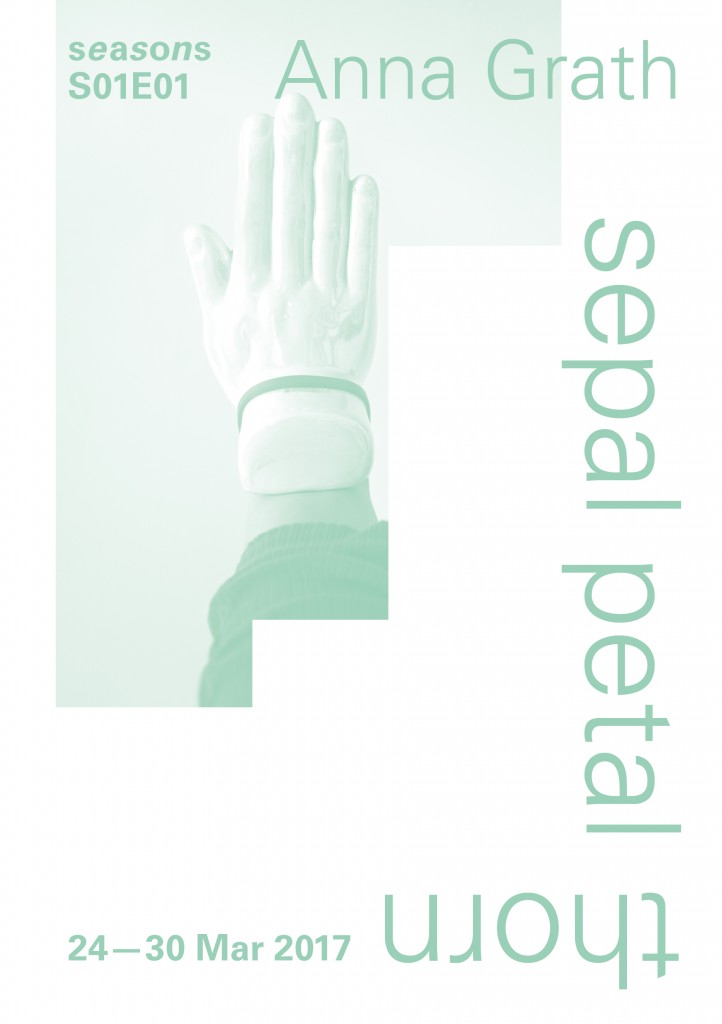 Anna Grath
Sepal Petal Thorn
Opening: March 24, 2017, 7pm
Opening Times: Wednesday – Sunday, 12:00-18:00
Duration: March 24 – March 30, 2017
Reading: Thursday March 30, 7pm
Anna Grath & Emanuel Mauthe
SEASONS is a four-part exhibition series taking place in spring, summer, autumn and winter. It is curated by Anna Schachinger, Michaela Schweighofer and Thilo Jenssen featuring solo shows by artists that have never exhibited in Vienna before.
Graphic Design: Marie Artaker
---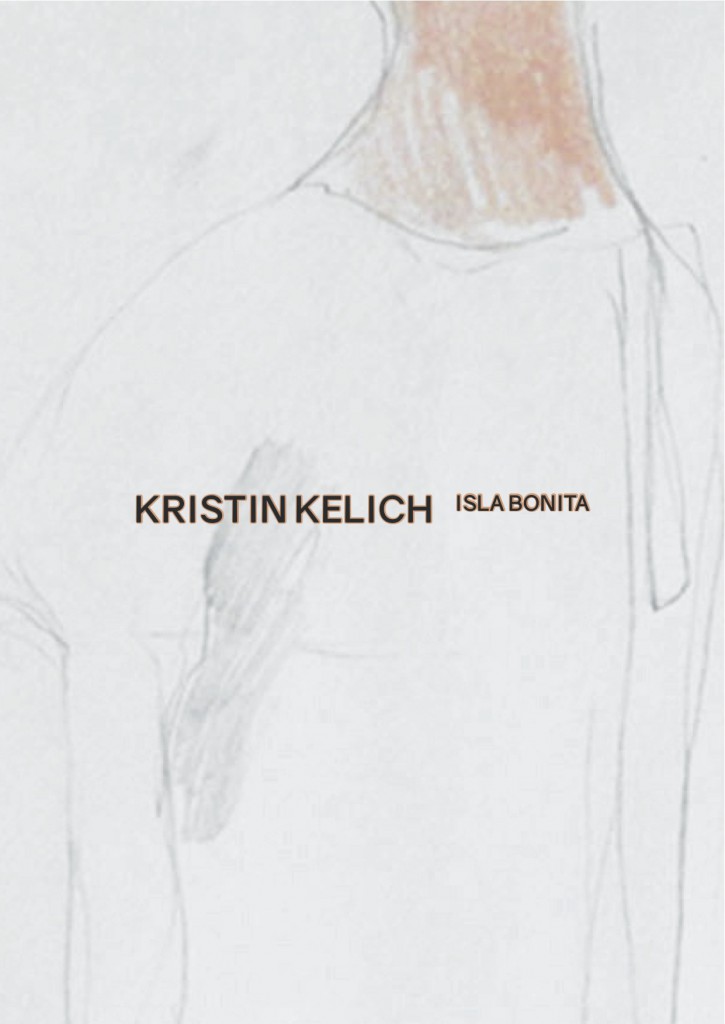 Kristin Kelich
Isla Bonita
Opening: April 11, 2017, 7 pm
Venue: Ofroom Innovation Circle Marxergasse 42, 1030 Wien
Duration: April 11 – April 30, 2017
---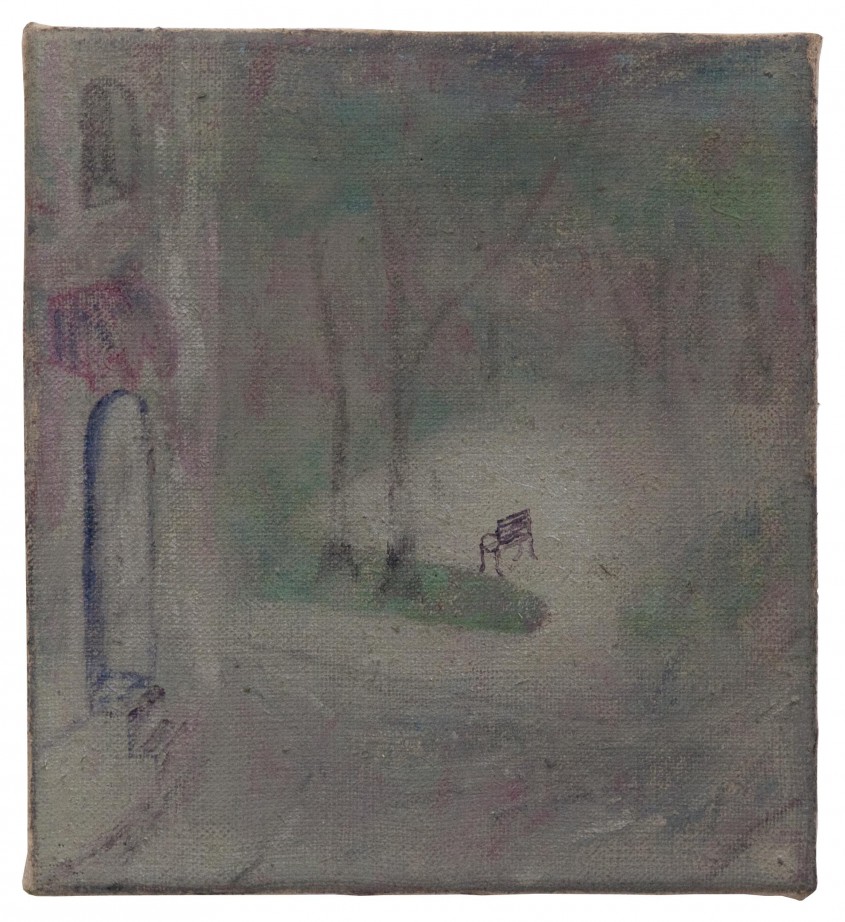 Eiko Gröschl
Rolling dice on a corner
Opening: March 2, 2017, 7 pm
Venue: Ofroom Innovation Circle Marxergasse 42, 1030 Wien
Duration: March 2 – March 16, 2017
Curated by Ute Burkhardt & Lisa-Marie Meier
Malerei der Suspense
Eiko Gröschls Werke berühren und erzeugen gleichzeitig eine innere Anspannung. Diese wird sich bei längerer Betrachtung nicht auflösen. Seine Bilder wirken melancholisch, still und geheimnisvoll (nach). Gröschls Werk lässt sich mit dem Begriff "Suspense" fassen. Es ist die Erwartung auf das Auftreten eines dennoch unerwarteten Geschehnisses. Gröschl stößt allerdings einen Keil zwischen dem erzählerischen und unsichtbaren Konzept und befreit dadurch das dargestellte Bild von seiner Abbildung. Seine Motive sind schematisch reduziert und stellen gewöhnliche Alltagshandlungen und Szenerien dar. Dabei wiederholen sich die Sujets: eine Frau sitzend auf einer Bank, ein Mann mit Hund, eine Uhr, die fast sechs schlägt, ein auf dem See schwimmendes Ruderboot. Es sind Beobachtungen, die durch kleine Verschiebungen ins Absurde driften. Die dargestellten Menschen und Tiere wirken wie isolierte, selbstvergessene, verträumte Wesen, die Schauplätze wirklichkeitsfern. Die Konsequenz dieser Malerei entscheidet auch über die formalen und ästhetischen Ansätze, die auf viele Stilelemente der Avantgarden Expressionisten verweisen. Seine Sujets sind nicht Träger seiner malerischer Intention. Seine Vorstellungen sind von einer Stimmung gesteuert, deren Ausdruck sich in der Farbe findet. Mal dominieren dunkle und kräftige Farbtöne seine Bilder, die dick und flächig aufgetragen sind. Oder es sind helle Farben, die sich über die Leinwand streuen und Teile von ihr unbedeckt lassen, wodurch ein Schleiereffekt erzeugt wird, der sich sanft über die Szenen legt. Ohne Licht und Schatten wird das Surreale seiner Bilder betont. Diese naive Malweise, sowie die simple Raumaufteilung erzeugen Sympathie und Leichtigkeit. (Lisa-Marie Meier und Amer Abbas, 2017)

---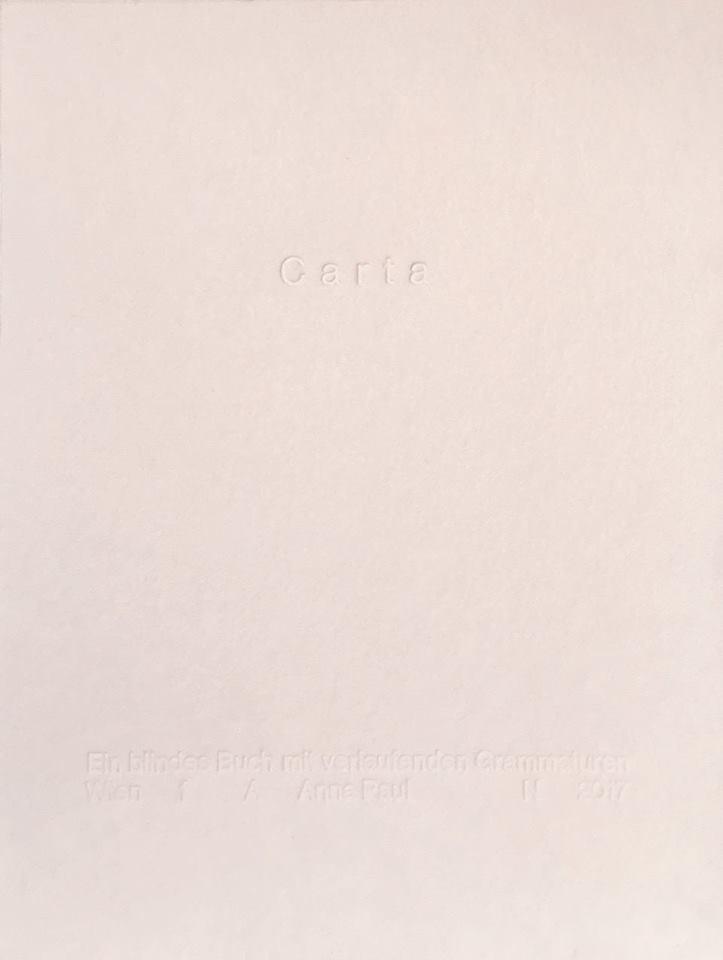 Anna Paul
Carta
Opening: February 16, 2017, 7 pm
Venue: Ofroom Innovation Circle Marxergasse 42, 1030 Wien
Duration: February 16 – February 28, 2017
CARTA
Schon der Gedanke, dass ein Zufall am Anfang vieler Sammlungen steht, gibt einem ein gutes Gefühl. Wo Kenntnisse über Sammelgebiete und Gegenstände steigen, spricht man von einer Sammlung, denn Sammeln im Gegensatz zum Anhäufen bedeutet auswählen.
Populäre Sammelgebiete sind under anderen historische Aktien und Wertpapiere, Ansichtskarten, Anstecknadeln, Antiquitäten, Aufkleber, Autogrammkarten und viele mehr. Ich sammle Papier, sammle das Wissen und die Geschichte die es erzählt.
Die Idee zu "Carta" steht am Anfang dieser Sammlung, die Idee aus den gesammelten Papieren ein blindes Buch mit verlaufenden Grammaturen zu machen. Speziell dafür suche ich seit langem rein weiße ungestrichene Papierbögen verschiedener Grammatur. Das Objekt ist nicht viel mehr als ein Block Papier, ein Musterbuch von Sorten die zu ihrem Ende gekommen sind. Die sich nun als Zeugen der Betriebe, die sie produzierten, zusammen finden. (Anna Paul, Feb. 2017)
CARTA
Thinking of coincidence as an initiator for many a collection makes one feel good. Where knowledge about specific areas and objects increases one speaks of a collection for collecting, as opposed to hoarding, means making choices. Popular collectibles are, amongst others, historical shares and bonds, postcards, pins, antiques, stickers, autographs and many more. I am collecting paper, the knowledge and the stories it holds.
The idea of binding the collected papers to a blind book with changing grains became the initial idea behind 'Carta'. For this I have long been searching for brilliant white laid paper of different grain. The object displayed is little more than a block of paper, a sample book of discontinued lines, coming together to bear witness to the companies which produced them. (Anna Paul, Feb. 2017)
---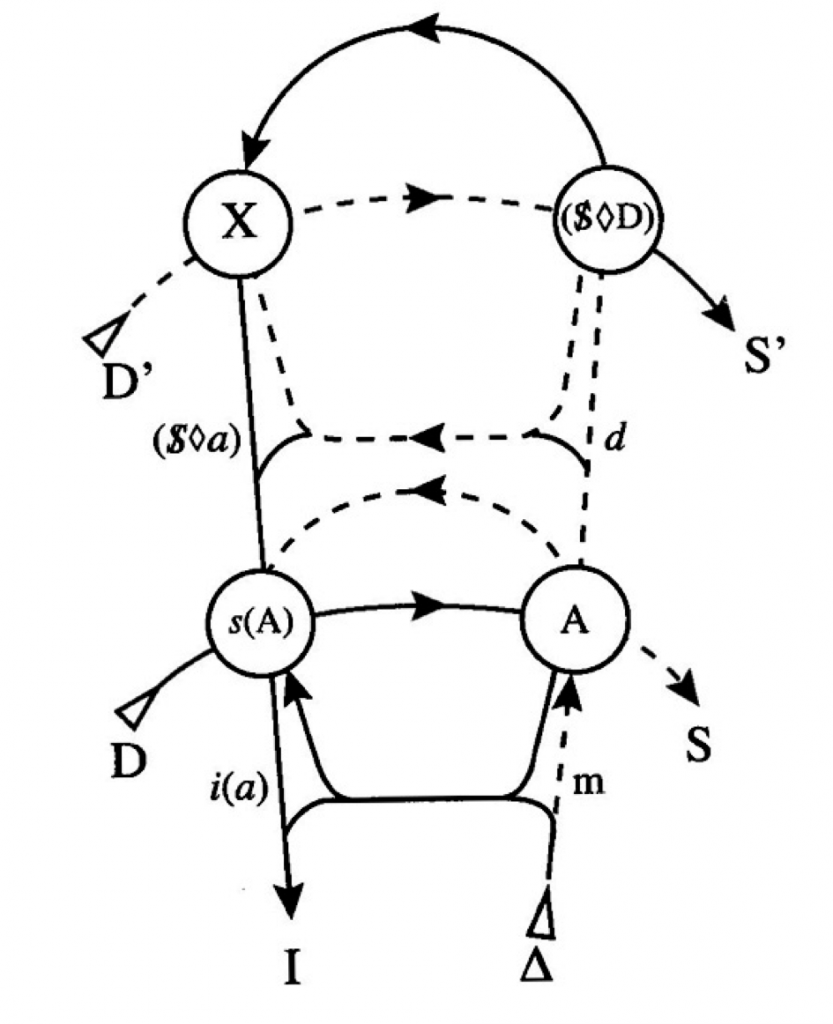 Aphanisis: the Fading of the Subject
Opening: January 22, 2017, 4 pm
Venue: Ofroom Innovation Circle Marxergasse 42, 1030 Wien
Duration: January 22 – February 3, 2017
annual programme fAN: 7.
Aber Freund! wir kommen zu spät. Zwar leben die Götter, Aber über dem Haupt droben in anderer Welt. Endlos wirken sie da und scheinen's wenig zu achten, Ob wir leben, so sehr schonen die Himmlischen uns.
Denn nicht immer vermag ein schwaches Gefäß sie zu fassen, Nur zuzeiten erträgt die göttliche Fülle der Mensch. Traum von ihnen ist drauf das Leben. Aber das Irrsal Hilft, wie Schlummer, und stark machet die Not und die Nacht, Bis daß Helden genug in der ehernen Wiege gewachsen, Herzen an Kraft, wie sonst, ähnlich den Himmlischen sind. Donnernd kommen sie drauf. Indessen dünket mir öfters Besser zu schlafen, wie so ohne Genossen zu sein,
So zu harren, und was zu tun indes und zu sagen, Weiß ich nicht, und wozu Dichter in dürftiger Zeit. Aber sie sind, sagst du, wie des Weingotts heilige Priester, Welche von Lande zu Land zogen in heiliger Nacht. (Friedrich Hölderlin "Brod und Wein")
Und, wozu Kunst in dürftiger Zeit?………….Das Pflegen von Rousseaus "amour de soi" (Selbstliebe) erfordert ein hoch kultiviertes Bewusstsein. Eigennütziger Egoismus ist keine brutale Tatsache unserer Gesellschaft, sondern vielmehr ihre Ideologie. Heute wird oft behauptet, in unserer totalen Mediengesellschaft mit ihrer Kultur der öffentlichen Geständnisse und digitalen Überwachungsmöglichkeiten verschwinde die Privatsphäre. Das Gegenteil ist wahr: Es ist vielmehr der öffentliche Raum, der verschwindet. Was also kann Kunst tun? Ist Kunst bloss Abbild eines traumatischen Innenlebens. Ist Kunst "das grosse andere"? Was, so könnte man fragen kann Kunst für die Gesellschaft tun? Kulturimagines und Diskurse sind sinsofern die Grundlage von Gesellschaften, als sie das soziale Band darstellen, das in einem bestimmten Raum und in einer bestimmten Epoche Menschen in verbindlichen Austausch zueinander treten lässt. Innerhalb der Kulturbildungen kommt noch der Kunst eine bedeutsame Rolle zu, weil in ihr gemeinschaftliche und gesellschaftliche Werthaltungen im Hinblick auf ein Ideal geschaffen und gepflegt werden, indem das, wozu sich der Mensch getrieben sieht in sublimster Weise sich auszudrücken versucht. In der Arbeit am ästhetischen Ideal ist das Künstlersubjekt stets um Orginalität bemüht, wodurch es sich zumindest vorübergehend aus der Verbindlichkeit der gesellschaftlichen Kommunikation löst, um ausserhalb des Konventionellen sowohl seinen eigenen Anspruch als auch seinen gesellschaftlichen Auftrag zu erfüllen. Künstlerinnen streben sets danach individuelles Arbeiten zu vergesellschaften. Motor all dieser Bewegungen ist das dem menschlichen Subjekten innenwohnende Begehren. Freud bemerkt, dass der spezifisch menschliche Wunsch immer von aussen kommt, um überhaupt überleben zu können muss man von einem Anderen gewünscht werden.
Das Projekt "Aphanisis, the fading of the subject" thematisiert die Organisation von Kunst im Rahmen gesellschaftlicher Prozesse als grundlegend konflikthaft, als eine Art Mesalliance. Kunst und Kunstwerke als Symptom, als Kompromiss zwischen dem Mut der Überschreitung von Grenzen, Tabus und der Tendenz zur Beibehaltung derselben. Mit neuen ästhetischen und sentimentalen, performativen Ritualen versucht dieses Projekt trotzalledem Kunst als intellektuelle, ästhetische und soziale Kapazität zu verhandeln und dem drohenden Verschwinden des Begehrens entgegen zu wirken. (Ute Burkhardt-Bodenwinkler, 2016)