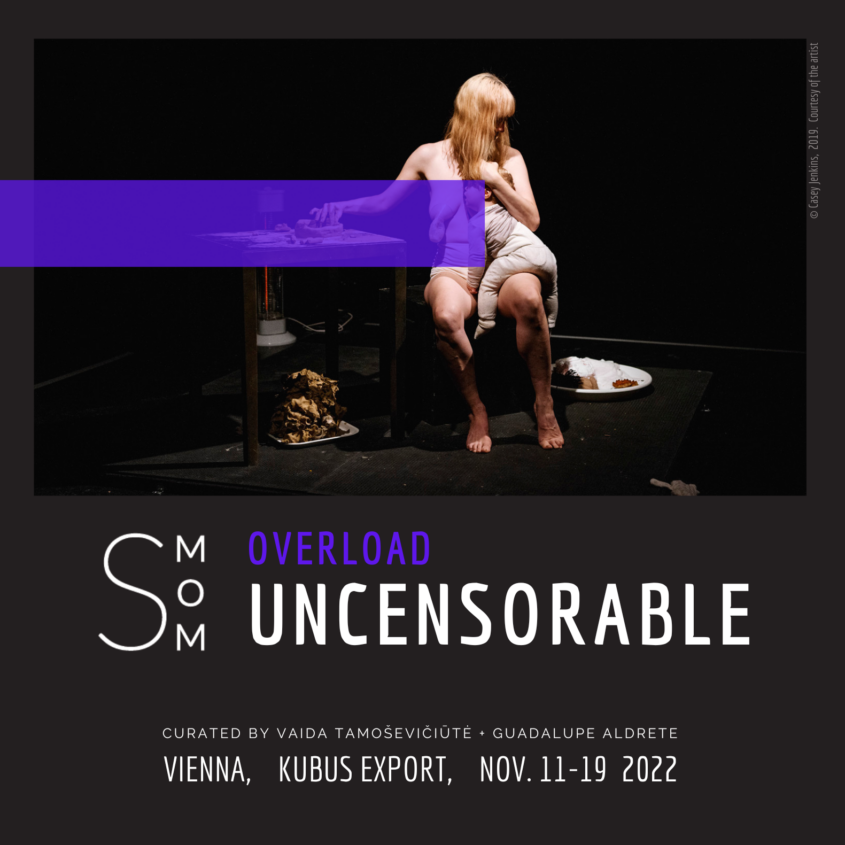 S MOM Overload
uncensorable
PERFORMANCE + VIDEO PERFORMANCES + INSTALLATION
Location: Kubus EXPORT – Der transparente Raum, Hernalser Gürtel 56, 1080 Wien
Date and time:
17.11. at 18:30 – Live Performances
19.11. at 11:00 – "About censorship" artists + curators talk
Exhibition: 11.11. to 19.11. from 16:00 to 21:00 hrs
Description:
S MOM is an international performance platform presenting artists whose practice deals with the topic of (non)motherhood, regardless of the artist's gender or whether they are mother or not. In "Overload", S MOM addresses the "weight" of the concept of motherhood. Thus, the selected works speak of this weight: the weight of choosing to be or not to be a mother; the weight of trying to be one; and, of course, the weight of being one.
Uncensorable: Presenting the works at Kubus EXPORT is an honour and an enriching point for us, as Valie EXPORT herself addressed the social "weight" of motherhood in her own artistic practice. However, having the show in a transparent space has its challenges. We are aware that many of the works could be offensive simply by showing naked bodies. There is no other way than censorship. However, we do not want to censor the artists or ourselves as curators. Therefore, we decided to censor the eyes of the viewers and point out to them what they don't want to see…
Performances by Diana Soria (MX/FI) and Anja Ibsch (DE).
Video works by: Poppy Jackson (GB), Alicia Radage (GB), Camilla Graff Junior (DK), Marta Bosowska (PL), Maria Kulikovska (UA),Jasmin Hoffer (AT), Diana Soria (MX/FI), Dyana Gravina (IT/GB), Rocio Boliver (MX), Anja Ibsch (DE), Paula Flores (MX/AT), Surya Tuechler (DE) and Tzitzi Barrantes (CO).
Curated by Guadalupe Aldrete (MX/ AT) and Vaida Tamoševičiūtė (LT).
SMOM is organised by Meno Parkas Gallery and generously funded by the Lithuanian Council for Culture, with the support of fAN (fine Art Network), the Austrian Ministry of Arts, Culture, Civil Service and Sport; as well as the collaboration of the Mexican Cultural Institute in Vienna and Grüntaler9 in Berlin.
Foto Copyright: Casey Jenkins, 2019. Picture courtesy of the artist