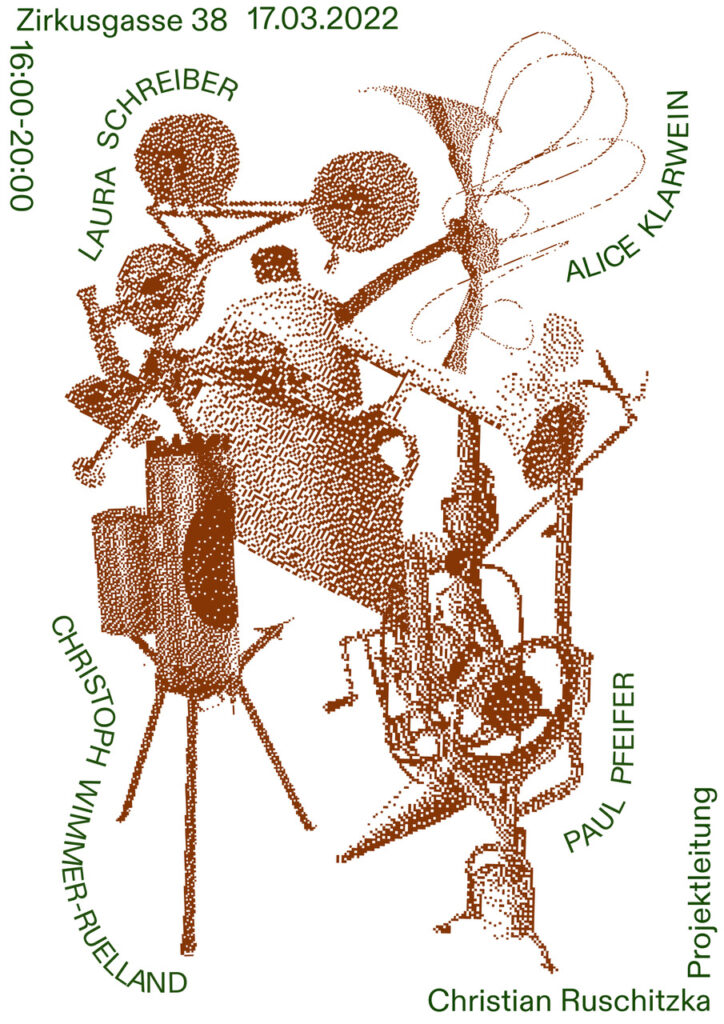 Weltmaschine
Mit Arbeiten von Alice Klarwein (@mk__alice), Paul Pfeifer (@red.narwhale), Laura Schreiber (@laura.vienice), Christoph Wimmer-Ruelland (@wimmrue)
Eine Reaktion auf die Weltmaschine von Franz Gsellmann:
Meiner Auffassung nach, stehen unsere Weltmaschinen nicht in Konkurrenz zu der Gsellmanns. Unseren Weltmaschinen legen wir die Gsellmann`schen Parameter zu Grunde, jedoch mit einem reduzierten Blick auf die Gegenwart, als eine Interpretation bzw. als eine Art Cover Version eines Songs.
Wir haben auf Gsellmanns Schrottplätzen recherchiert und wurden dort auch fündig.
Spannend ist es zu erkennen, wie sich die heute entstandenen Objekte auf Grund von ganz andersartigem zur Verfügung stehenden 'Schrott' verändern.
Auf Grund der räumlichen Vorgabe sind unsere Objekte eigenhändig transportabel und schaffen somit flexible Präsenz.
Gsellmann suchte nach den 'schönen' Dingen oder vielmehr solchen, die aus einer für ihn exotischen Welt stammten. Wir hingegen setzen auf den Menschen als Antrieb anstelle eines Motors, denn: Je moderner eine Technologie ist, desto schneller ist sie überholt und veraltet. Die Anfälligkeit der Technik und des Materials ihrer Zeit ist immer zu hinterfragen.
Christian Ruschitzka, März 2022
Poster Alice Klarwein, Christoph Wimmer-Ruelland


Opening: Thursday, 17 March, 2022
Venue: Zirkusgasse 38, 1020 Vienna
Duration: MArch 12 – April 15, 2022

---

Parallel Editions
An experience that many of us share today is the feeling of exhaustion and extinction of the principles that sustained life. We feel the vertigo of the end of time when we ask ourselves how to imagine the world after the multiple crises of recent years on a planetary scale? We also feel it on a daily basis when the accelerated pace of consumption and productive demand leads us to say "there is no time". The awareness of the extinction of natural resources has reaffirmed this experience that some thinkers have named as a "posthumous time". In this context, the possibility of glimpsing a horizon of meaning has been strongly questioned and contemporary art has provides important keys to reimagine a livable world und forms of thought and sensibilities different from those that have entered into crisis.
Guadalupe Aldrete, Sofia Cruz Rocha and Paula Flores are three outstanding Mexican artists residing in Vienna who, in diverse ways, respond to these urgent challenges of our time. As a whole, their works provide a significant repertoire of imaginations and new horizons of life where affective memory, close relationships, mystical spirituality and a new relationship with nature recompose our ideas of the future.
Guadalupe Aldrete has focused her work on exploring the experience of the female body as a vital force, material power, and affective memory. Her work highlights a subtle and powerful use of organic materials with a high symbolic value that record traces of bodily transformations: coal, urine and mineral dyes. The works represented here show the revealing of parts of her body through photocopying and explore the affective memory that links her to other individuals in her family.
Sofia Cruz Rocha represents a set of key works that symbolically unites the macrocosm, heaven and earth, above and below, through various artistic strategies, based on certain principles of hermeticism that conjure up a materialized spirituality.
Paula Flores shows a set of works that show her insistent work in recent years to rethink the relationship between human life and nature, different from the dynamics of resource consumption that capital has dictated. Through collages, actions in the natural environment, and experimentation with organic and synthetic matter, she produces artificial ecosystems that reiterate a fragile human bond with other forms of life that needs to be reconnected. The three proposals suggest ways to approximate and reunify aspects of our vital experience that have ben fragmented under the current condition of life that have clearly evidences their condition of ruin and necessary renovation.
Text by Roselin Rodriuez Espinosa, May 2022
Opening: Thursday, 12 May 2022
Venue: Semperdepot, Lehargasse 8 (Tor 2), 1060 Vienna
Duration: May 12 – May 15, 2022
---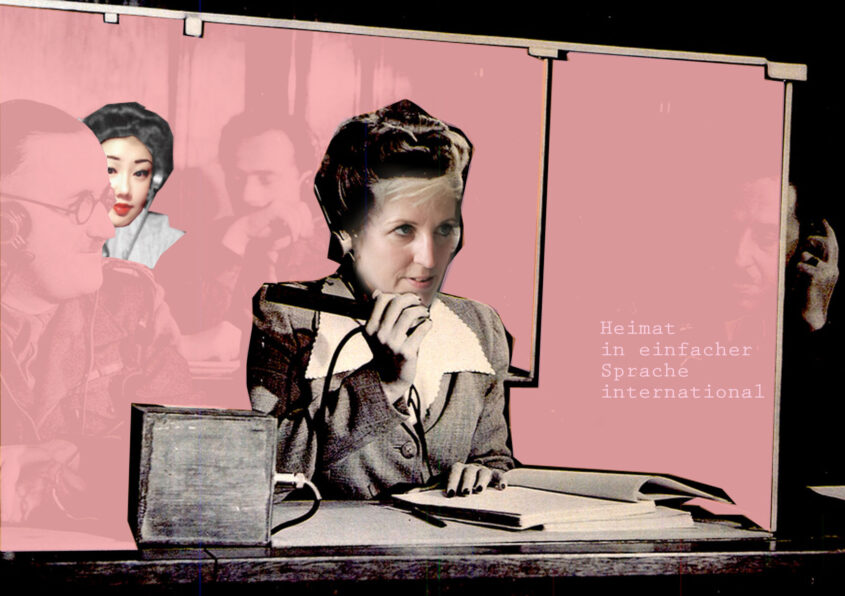 Barbara Ungepflegt
Heimat in einfacher Sprache international
Performative Installation
29.6. – 2.7.2022, 16:00 bis 20:00 Uhr
Durchgang Dr. Karl Lueger Platz 4, 1010 Wien
Konzept: Barbara Ungepflegt
Dolmetsch-Performance: Barbara Ungepflegt, Sophie Willhaben
Dramaturgische Beratung: Ute Burkhardt-Bodenwinkler
Technik: Arik Kofranek
Die einfache Sprache des Volkes versteht niemand mehr. Eine Übersetzung ist notwendig: Barbara Ungepflegt und Sophie Willhaben stellen sich mit ihrer performativen Installation Heimat in einfacher Sprache international den hohen Anforderungen des Simultandolmetschens. Mit Empathie und Unverfrorenheit übersetzen sie die Gedanken der Passant*innen: schnell, effizient, unverblümt. Gedankenfetzen und Befindlichkeiten Vorbeigehender, die Ungepflegt und Willhaben aus einer Dolmetsch-Kabine an die Zuhörer*innen (via Kopfhörer) weitergeben, verwandeln den öffentlichen Raum zum Kongress der Intimität. Reaktionsgeschwindigkeit, Konzentration und Laune der Dolmetscher*innen sind für die Übersetzung ausschlaggebend. In Deutsch und Chinesisch, auf jeden Fall in einfacher Sprache.
---
Barbara Ungepflegt
TRACK & FIELD
LOCATION: FAN KUNSTVEREIN @ PARALLEL VIENNA, SEMMELWEISKLINIK, HOCKEGASSE 37, 1180 VIENNA
OPENING: TUESDAY, 9/6/2022 17:00 – 22:00
OPENING HOURS:
WEDNESDAY, 9/7/2022 TO FRIDAY, 9/9/2022: 13:00 – 20:00
SATURDAY, 9/10/2022 TO SUNDAY, 9/11/2022: 12:00 – 19:00
FOTOS MIT KUCHEN
IN TRACK & FIELD PRÄSENTIERT SICH DIE WIENER KÜNSTLERIN BARBARA UNGEPFLEGT, FOTOGRAFIERT VON PETER M. KUBELKA, IN REPRÄSENTATIVEN SZENEN DES ÖFFENTLICHEN AUFTRITTS IN LONDON. ALS FLANEURIN UNGEAHNTER, GEAHNTER ABENTEUER VERWANDELT SICH UNGEPFLEGT DABEI SO EXTREM, DASS DER EINDRUCK ENTSTEHT, SIE SEI DIE VOM TOD AUFERSTANDENE PRINZESSIN DIANA.
DER VERHERRLICHUNG DER PRINCESS OF WALES NÄHERT SICH DIE KÜNSTLERIN IN MINUTIÖS KONZIPIERTEN SZENARIEN, DIE DIE WIDERSPRÜCHLICHKEIT EINER (DOPPEL-)EXISTENZ UND DIE BRÜCHIGKEIT ZWISCHEN SELBST- UND FREMDBILD ZEIGEN. DIE MEDIENREALITÄT DER VERSTORBENEN DIANA SPENCER PARAPHRASIEREND, STEHEN ZENTRALE FRAGEN ZU IDENTITÄT, KONSTRUKTION UND GLORIFIZIERUNG IM MITTELPUNKT DIESER ARBEIT, DIE EINE FORTSETZUNG IHRER BISHERIGEN KUNSTFIGUREN-VARIATIONEN, WIE Z.B. DIE FIGUR DER BUNDESMINISTERIN FÜR HEIMATSCHMUTZ UND INTERNATIONALE AFFÄREN ODER DIE DER SACHBEARBEITERIN BABI K. IST.
DIE FRAPPIERENDE ÄUSSERE ÄHNLICHKEIT ZWISCHEN LADY DI UND BARBARA UNGEPFLEGT WIRD AUF DIE SPITZE GETRIEBEN. DIE BEWUNDERER, DIE UNERSÄTTLICHEN "MYTHENKONSUMENTEN", WIE ROLAND BARTHES SIE EINST BESCHRIEB, MIT KUCHEN GEFÜTTERT.
PHOTOS WITH CAKE
IN TRACK & FIELD, THE VIENNESE ARTIST BARBARA UNGEPFLEGT, PHOTOGRAPHED BY PETER M. KUBELKA, PRESENTS HERSELF IN REPRESENTATIVE SCENES OF PUBLIC APPEARANCE IN LONDON. AS A FLÂNEUR OF UNEXPECTED, EXPECTED ADVENTURES, UNGEPFLEGT TRANSFORMS HERSELF IN SUCH AN EXTREME WAY THAT SHE GIVES THE IMPRESSION OF BEING PRINCESS DIANA REBORN FROM DEATH.
THE ARTIST APPROACHES THE GLORIFICATION OF THE PRINCESS OF WALES IN PRECISELY DESIGNED SCENERIES WHICH SHOW THE CONTRADICTORY NATURE OF A (DOUBLE) EXISTENCE AND THE FRAGILITY BETWEEN SELF-PERCEPTION AND EXTERNAL PERCEPTION. PARAPHRASING THE MEDIA REALITY OF DIANA SPENCER, CENTRAL QUESTIONS OF IDENTITY, CONSTRUCTION AND GLORIFICATION ARE AT THE FOCUS OF THIS WORK, WHICH IS CONTINUATION OF HER PREVIOUS ART FIGURE VARIATIONS, SUCH AS THE FIGURE OF THE FEDERAL MINISTER FOR HOMELAND DIRT AND INTERNATIONAL AFFAIRS OR THAT OF THE OFFICE ASSISTANT BABI K..

The astonishing external similarity between Lady Di and Barbara Ungepflegt gets driven to extremes. The admirers, the insatiable "myth consumers" as Roland Barthes once described them, will be fed with cake.
---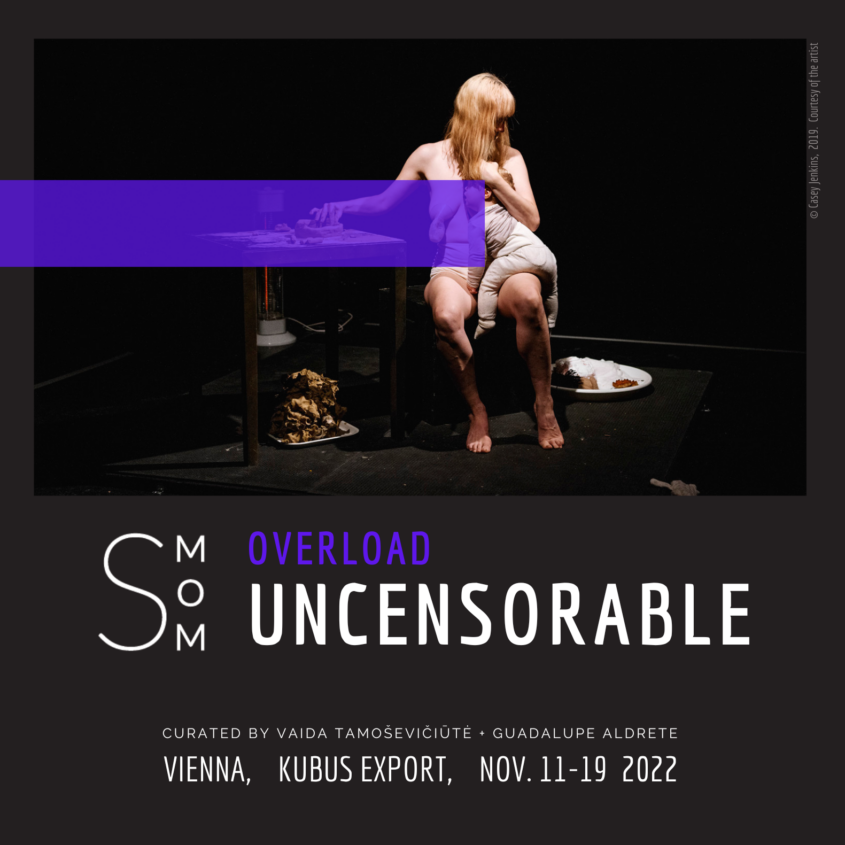 S MOM Overload
– uncensorable –
Performance + Video performances + Installation
LOCATION: Kubus EXPORT – Der transparente RaumHernalser Gürtel 56, 1080 Wien
Date and time:
17.11. at 18:30 – Live Performances
19.11. at 11:00 – "About censorship" artists + curators talkExhibition:
11.11. to 19.11. from 16:00 to 21:00 hrs

Description:S MOM is an international performance platform presenting artists whose practice deals with the topic of (non)motherhood, regardless of the artist's gender or whether they are mother or not. In "Overload", S MOM addresses the "weight" of the concept of motherhood. Thus, the selected works speak of this weight: the weight of choosing to be or not to be a mother; the weight of trying to be one; and, of course, the weight of being one.Uncensorable: Presenting the works at Kubus EXPORT is an honour and an enriching point for us, as Valie EXPORT herself addressed the social "weight" of motherhood in her own artistic practice. However, having the show in a transparent space has its challenges. We are aware that many of the works could be offensive simply by showing naked bodies. There is no other way than censorship. However, we do not want to censor the artists or ourselves as curators. Therefore, we decided to censor the eyes of the viewers and point out to them what they don't want to see…

Performances by Diana Soria (MX/FI) and Anja Ibsch (DE).Video works by: Poppy Jackson (GB), Alicia Radage (GB), Camilla Graff Junior (DK), Marta Bosowska (PL), Maria Kulikovska (UA),Jasmin Hoffer (AT), Diana Soria (MX/FI), Dyana Gravina (IT/GB), Rocio Boliver (MX), Anja Ibsch (DE), Paula Flores (MX/AT), Surya Tuechler (DE) and Tzitzi Barrantes (CO).Curated by Guadalupe Aldrete (MX/ AT) an Vaida Tamoševičiūtė (LT).

SMOM is organised by Meno Parkas Gallery and generously funded by the Lithuanian Council for Culture, with the support of fAN (fine Art Network), the Austrian Ministry of Arts, Culture, Civil Service and Sport; as well as the collaboration of the Mexican Cultural Institute in Vienna and Grüntaler9 in Berlin.